Exposing Impacted Teeth for Bracketing
---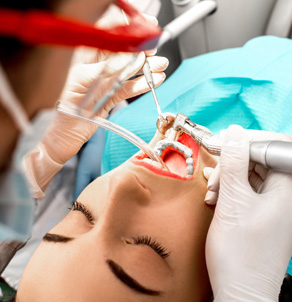 What is an Impacted Tooth?
An impacted tooth simply means that it is "stuck" and cannot erupt into function. Patients frequently develop problems with an impacted third molar (wisdom teeth). These teeth get "stuck" in the back of the jaw and can develop painful infections, among a host of other problems (see 3rd Molar Extraction).
In cases where the eye teeth will not erupt spontaneously, the orthodontist and oral surgeon will work together to get these teeth to erupt. Each case must be evaluated on an individual basis, but treatment will usually involve a combined effort between the orthodontist and the oral surgeon.
---
Watch a Video About Exposure Surgery
What is Exposure Surgery?
In a simple surgical procedure performed in the surgeon's office, the gum on top of the impacted tooth will be lifted up to expose the hidden tooth underneath. If there is a baby tooth present it will be removed at the same time.
Once the tooth is exposed, the oral surgeon will bond an orthodontic bracket to the exposed tooth. The bracket will have a miniature gold chain attached to it. The oral surgeon will guide the chain back to the orthodontic arch wire where it will be temporarily attached. Sometimes the surgeon will leave the exposed and impacted tooth completely uncovered by suturing the gum up high above the tooth or making a window in the gum covering the tooth. Most of the time the gum will be returned to its original location and sutured back with only the chain remaining visible as it exits a small hole in the gum.
---
What Should I Expect After Exposure Surgery?
You can expect a limited amount of bleeding from the surgical sites after surgery. Although there will be some discomfort after surgery at the surgical sites, most patients find Tylenol or Advil to be more than adequate to manage any pain they may have. Within two to three days after surgery, there is usually little need for any medication at all. There may be some swelling from holding the lip up to visualize the surgical site; it can be minimized by applying ice packs to the lip for the afternoon after surgery. A soft, bland diet is recommended at first, but you may resume your normal diet as soon as you feel comfortable chewing.