Temporary Anchorage Device: An Effective Alternative to Headgear
---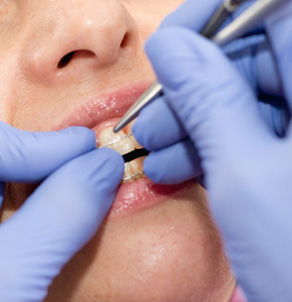 A temporary anchorage device, often referred to as a TAD, is a small, titanium, screw-like device placed between the roots of the teeth.
Often used as an alternative to headgear, this simple, but effective device is placed temporarily to support movement of the teeth in order to achieve the patient's cosmetic goals.
---
Watch a Video About Temporary Anchorage (TAD) Surgery
What Are the Advantages of Using a Temporary Anchorage Device?
Customized to the patient's needs: a TAD is placed specifically in the location that is optimal to the needs and desires of the patient.
More attractive alternative: many patients find headgear to be an embarrassing and unattractive accessory. Alternatively, the TAD is essentially invisible; nobody will even know you have it!
Low maintenance: TADs require no special care beyond normal brushing.
Highly effective: TADs have been shown to get predictable and effective results in even the most serious of cases.
Easy removal: when a TAD has done its job, removal takes only a few minutes and requires minimal aftercare.
Want to learn more about whether a temporary anchorage device is the right choice for you or your family? Contact us today to schedule a consultation with one of our friendly, board-certified doctors and they'll be happy to answer all of your questions!